Hi friend! I hope you're enjoying the first official few days of summer! It's been a little chillier than I'd like out here on the East Coast so I thought I would share a heartier recipe in the midst of all the smoothies, salads, and no-bake fare that's been blowing up my newsfeed lately.
The most difficult part of this recipe is cooking the lentils and rice, but if you follow my sweet batch-cooking tips you can have them whipped up in advance so it's a simple matter of combining them with all the curry, coconut, garlicky deliciousness!
This dish is perfect for Meatless Monday, for preparing for a vegan/vegetarian friend or visitor, or if you're simply looking for a way to incorporate lentils into your life in a new way.
I love lentils because, not only is Canada the world's current largest exporter of these sweet little pulses, but they add a ton of fibre and protein to a meal in a fairly easily digestible package. And all that fibre is fantastic for feeding your microbiome, which can keep you healthy and strong in so many ways!
We made this recipe at the very last cooking class I taught in Saskatoon and it was a huge hit! I made a couple tweaks to up the deliciousness and ease factor, so I hope you enjoy the final product as much as I enjoyed testing it 😉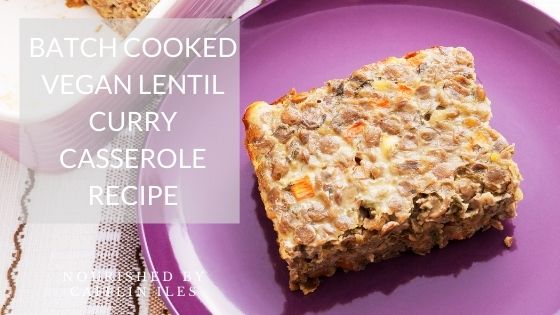 Batch-Cooked Curried Lentil & Rice Casserole Recipe
This is a perfect vegetarian and vegan main course full of complete protein and tons of flavour! It's the perfect meal to batch cook, portion, and eat throughout the week! Most of the cooking time is very hands-off, so don't let the length discourage you!
Ingredients
3/4

cup

french lentils

rinsed & drained

1

cup

basmati brown, or mixed grain rice

3

tbsp.

coconut or avocado oil

2-3

tbsp.

madras curry powder*

1

red onion

chopped

1

red yellow, or orange pepper

finely chopped

1

small bulb not clove! garlic

finely chopped

1

small package baby spinach

finely chopped

½

tsp.

salt

½

tsp.

freshly ground black pepper

2

cups

coconut milk**
Instructions
Transfer rinsed lentils to a saucepan, add enough water to cover lentils 1 inch, with a pinch of sea salt and bring to a boil over high heat.

Once boiled, reduce to medium/low to simmer for 15-20 minutes. You want them to still be slightly al dente (a little bit hard in the middle and still fully formed) when you take them off the heat.

In another saucepan, cook rice in a 1:1 and 3/4 ratio of rice to water. Cover with a lid, bring to boil, then reduce to a simmer COVERED for 15-20 minutes.

While lentils and rice are cooking chop onion, red pepper, garlic, and spinach into fine pieces.

Preheat oven to 350 ºF.

In a large frying pan, heat oil over medium heat.

Add coconut oil and curry powder, toasting until fragrant, about 1-2 minutes.

Add chopped onions, pepper, and garlic; then stir until onions are translucent and softened. You may want to cover the frying pan with a lid.

Stir in rice, salt, and pepper; cook 2 more minutes. Add chopped spinach, cooked lentils and coconut milk; cook for 1 minute.

Transfer the lentil rice mixture to an oven safe dish, leaving some space for expansion. Cover with oven safe lid and bake 35 minutes.

Remove from oven and let cool with the lid off for a couple of minutes before digging in!
Recipe Notes
* I like my food SUPER flavourful, so I add 3 tbsp. of curry powder, but 2 should still be delicious!
**My favourite coconut milk brands to use are: Real Thai in a tetrapack or Aroy-D full fat coconut milk in a can or small tetra pack.
Well friend, that's a super tasty recipe that you can batch cook to have on hand for those nights you want to just pop something in the oven. Bake a batch or two in advance, divide it into your desired portion sizes, and pop in the freezer. When you get home and need something tasty just pop it into the oven until warmed through and voila! Dinner is served!
And if you're looking for some extra support on your health journey then make sure you download my FREE Stop Self-Sabotage Workbook to help you release old patterns keeping you unhealthy and achieve your wellness goals! 
Have a beautiful day!
Cait xo

Photo Credit: Shutterstock