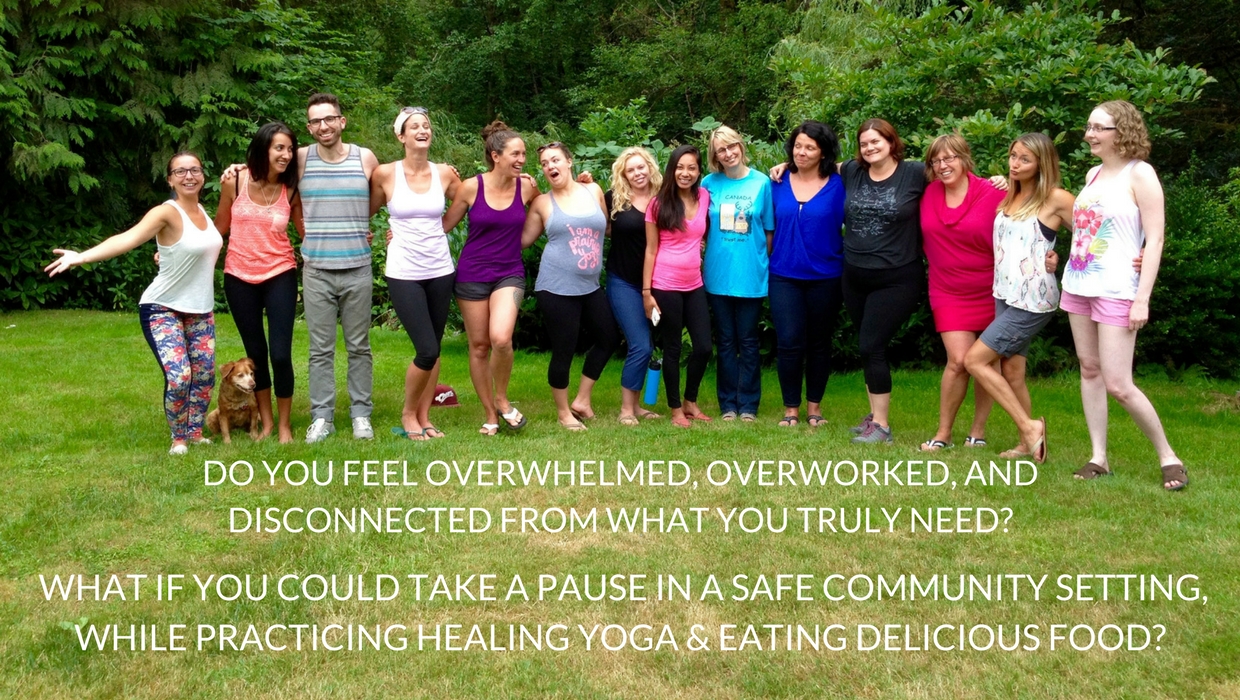 Are you looking to give your body some love, pampering, and nourishment?
Do you need some time for yourself? 
Are you feeling overrun, but a weekend retreat is not in the budget?
Do you need some inspiration to take your healthy lifestyle to the next level?
Do you struggle with self-sabotaging your efforts to live a healthier lifestyle?

Give yourself the Gift of Rejuvenation & Community Support by taking a day to rest and connect with new friends at Caitlin Iles's Nourish Yourself Day Retreat!
If you answered yes to any of the above questions then my day-long retreat is for you! Over the past several years I've developed a healing mini retreat during which you'll spend a day pampering your body with gentle and restorative yoga practices, educating your minds with a live cooking class and food demo, and soothing your soul with a lifestyle workshop designed to  give you all the tools you need to stop sabotaging your efforts meet your healthy living goals.
Caitlin Iles, MA, CNP, CNE
Holistic & Culinary Nutritionist  Hi there! My name is Cait and I am a Certified Nutritional Practitioner, Culinary Nutrition Expert, and Yoga Teacher with a keen interest in keeping up to date on the latest and greatest in nutrition and wellness research. I am so passionate about helping my clients feel happier, more energetic, and totally in love with their lives because I've been on the other side and knows that there's more to life than aches, pains, and fatigue.
In my practice I focus on healing the body through gentleness, self-compassion, the latest nutrition research, and time-tested, evolution-based dietary concepts. My mission is to help you change your relationship with food so that you can create your healthiest body and your happiest, most fulfilling life. I've written for publications such as The Hearty Soul, The Academy of Culinary Nutrition, ALOHA Way Magazine, Mind Body Green, and Herb Affair. Creating space for healing at wellness retreats, cooking classes, and live talks is my passion.
See what some of my past guests have to say about my retreats
5 stars! The Mini Yoga Retreat out at Ancient Spirals was amazing. Exactly what I was looking for- a place to unwind, get focused, and surround myself with happy, positive people. Caitlin is so good at what she does and has a way of putting people at ease. She is very knowledgeable in nutrition/yoga and will answer any questions you may have. I highly recommend this retreat and am looking forward to attending more in the future! – June 2016
Julia Van Lambalgen
When I saw Caitlin was doing a day retreat I knew I couldn't miss spending a day with her!!! She is amazing at yoga and teaching healthy recipes…the food is always amazing!!! It is great the way to connect with new friends. She can make anyone and everyone feel special!!! -June 2016
Janice Lloyd
Calling all lovely ladies! If you've been searching for the perfect way to treat yourself, look no further! Caitlin's retreats are fun, inspirational, and empowering. This getaway will leave you feeling fresh and ready for anything. Come join us!! – September 2015
Jessica Gallant
The yoga classes are designed for all levels students, no experience required! We'll take it slow and use gentle poses and stretches to open your body and heart to the possibility of living your best life.
This entire day is designed to help you reconnect with your sense of self: who you are and what you want! You'll leave totally inspired and well equipped with the tools you need to kickstart your lifestyle journey and take your healthy habits to the next level.
I'm so looking forward to spending the day surrounded by wonderful people, supporting and encouraging one another to take the next step on your life's journey. You can keep scrolling for the complete schedule of your restorative day. I hope to see your beautiful face soon!

10:00-10:30am—Introductory Welcome Circle
This sessions provides a chance for us to meet one another and for you to share who you are & what brought you to this healing space.
10:30am-11:30am—Gentle Yoga Flow

This practice is designed to gently open up your body, heart, and mind for a day of learning, growth, and nourishment. You'll awaken to your physical possibilities and become receptive to a new life, body, and practice.
11:45am-1:15pm—Simplify Your Life: Easy Meals & Snacks To Go!
This workshop includes recipes, handouts, demos, and samples of delicious and super simple meals you can prepare in under 30 minutes to make your life easier and your body healthier!
We'll also talk about, demo, and taste some delicious snacks to whip up so you can make healthy eating on the go a breeze! BONUS: HOW TO USE THE HOTTEST KITCHEN TOOL OF 2018, THE INSTANT POT!

1:15pm-2:15pm— Nutritionist & Participant Prepared Lunch
You'll be enjoying the fruits of the workshop, which may include:
Seasonal Wild Rice & Toasted Almond Salad w/ Honey Lemon Vinaigrette 
Veggie-Ful Rice Wraps w/ Glory Bowl Dressing
Sensational Seasonal Soup
Chocolate Avocado Fudge Cookies
Chocolate Dipped Ginger Granola Bars 
2:30pm-3:30pm— Stop Self-Sabotage: Overcoming Resistance to Healthy Eating Talk
This talk will focus on some of the most common issues surrounding your tendencies to self-sabotage your healthy eating & living plans. Together we'll look at what they are and how you can overcome them using mindfulness and gentleness.
You will also learn about the best foods for healing your body and which foods should be avoided in order to achieve and maintain vibrant health.

3:30-4:45pm—Restorative Yoga
This practice is designed to help you enter into a deep state of relaxation and release so that your muscles and mind have the chance to rest and repair.
Your body is wise beyond measure and when given the peace and space to heal she can bring herself back into balance.
5:00pm-5:30pm Closing ceremony
At the end of the day you'll be given the chance to share any  realizations, highlights, and steps you'll be taking post-retreat to bring your healthy lifestyle goals to fruition.

LOCATION: OUR LADY OF PERPETUAL HELP CHURCH HALL 
DATE: March 10th, 2018
TIME: 10:00AM TO 5:30PM
What's Included:
Lunch, snacks, and tea
2 Specially Designed Yoga Classes
1 Cooking Class & Food Demo
1 Lifestyle Workshop
Take Home Recipe Guides
Stop Self-Sabotage E-Book
You will also want to bring: 
Loose fitting, comfortable clothing
Water bottle
Yoga mat
Blanket, bolster, or pillow (optional, but highly recommended for maximum relaxation)
Tupperware or mason jars (in case there are leftovers!)
PAYMENT PLANS AVAILABLE. EMAIL CAITLINILES@LIVE.COM TO SET ONE UP OR PAY BY E-TRANSFER TO SAVE THE TAX!
Cancellation Policy
Full refund 30 days prior to retreat. $100 deposit kept fewer than 30 days until retreat. No refund if cancelling fewer than 10 days prior to retreat. Retreats require a minimum of 6 participants in order to run.
What's Not Included
Transportation to and from the retreat.
Additional activities, services, or excursions.
Gratuities including tips at your discretion.
Any personal expenses including incidentals, alcohol, extra food and snacks.