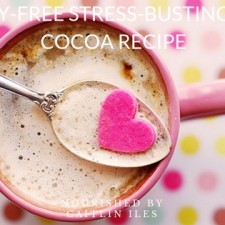 This hot chocolate recipe is packed with hormone balancing and stress busting herbs to help you feel calm and stable all day long!
Add cocoa powder, maca, and Ashwagandha to your very favourite mug and whisk together.

Add coconut milk and vanilla and combine until smooth. You may need to use a whisk to get rid of all the chunks.

Pour boiling water into mug and stir.

If you have a venting blender, add all ingredients and blend until frothy, about 1 minute.

Add honey, let cool, and enjoy!