Private Kitchen Parties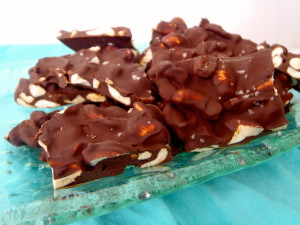 Want the fun of a live cooking class brought to the comfort of your own home? Well ask and you shall receive! Each class is customizable or you can choose from a list of options such as:
Sinfully Delicious Chocolate Making Workshop

Simply Your Life: Balanced Meals on the Go

Nutrition on the Go: Snacks and Sides

Plant Powered Cooking for Balanced Energy 

Gluten-Free Baking Basics

Spectacular Soups, Sauces, and Salads!

Eating For Beauty: Nourish Your Skin from the Inside Out

Fabulous Fermentation: Level 1 & Level 2
Contact me to book a class or customize your own. Host gets to keep any delicious leftovers (to share or not!). Everyone leaves with a full belly and a handout with all the recipes, tips, and information covered in the class. These cooking classes are a great way to bond with your friends, relax, and have fun in the kitchen all in the comfort of your own home. Check out what some of my previous guests have said:
"What a great cooking class on Saturday! And I am certain there will be a lot more to come – waiting for the cookbook and TV show!" -TS
Cost per guest runs between $50 to $75 depending on the class for up to 12 people.
Wellness Retreats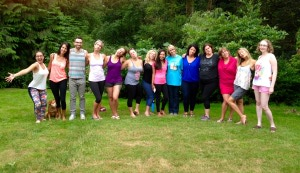 I love being able to create a safe space for women to come together to dig deep into thoughts and fears that may be holding them back, sharing information about cooking and healthy eating, and guiding them through restorative and healing yoga practices. Women barely ever take time out for themselves so my goal is always to create a healing, restful, and nourishing space for relaxation and reflection.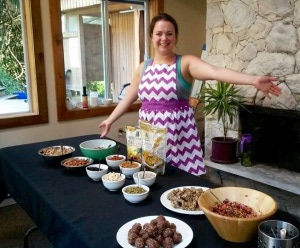 I have designed (and co-designed) a couple of different options from one-day mini retreats to full weekend immersions. Prices vary depending on location and retreat option. You can read more about my Nourish Yourself, Re-Treat Yourself, and Warrior Women's Retreats by clicking the text below.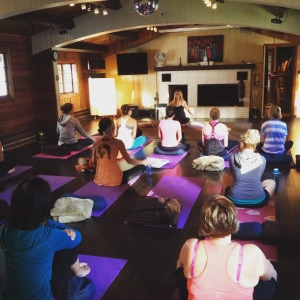 This 28-day program is specifically designed to help you implement healthy lifestyle habits and dietary practices in your life so that you can start living a life full of boundless energy, glowing skin, and flat bellies. I run these challenges 3 times a year, so there are tons of chances for you to join in the fun!
This month has been incredible. Heading into the challenge I was ready to accept my body would feel achy and sore for ever, my knees and ankles were in pain all the time, and the full IBS was on the horizon. I was also accepting my moodiness, and cynicism. My body has changed, but more importantly my state of mind has change dramatically. I feel HAPPY almost all the time, and previous to this month was often chasing happiness. I have rebooted my will power. I can't say enough good stuff about this experiences. I am truly so THANKFUL. Caitlin is an amazing facilitator, and an inspiring person. I knew in my heart how connected mental health was with what we ate, but I couldn't get my head and hands to agree and sign up. I'm a new person. -KD
Fully Nourished:
Private Nutritional Consultations:
Get to the root of your body's imbalances with in-depth and personalized consultations.
Receive a personalized protocol outlining the stepping-stones of your path to Nourishment.
Learn tips and tricks on how to successfully build new diet and lifestyle habits.
First Consultation:
First things first, you will tell me the main reasons you are coming to see me so that I can tailor a protocol that meets your individual goals.
I will collect the intake forms filled out prior to your visit.
We will have an intake interview to gather all the necessary information to get started. This will include your medical, emotional, and physical histories (the more in-depth, the better).
We will discuss your five-day diet diary and lifestyle habits.
I will provide you with an initial mini protocol to get you started on your path to wellness.
Second Consultation
7 days after initial appointment
We will go over any imbalances indicated from the previous session and I will provide an explanation of what's going on inside that magnificent, if slightly imbalanced, body of yours.
Together we will go over your personalized protocol and I will answer any questions you may have on how best to implement the strategies I have outlined.
There is an option to add an extra component to this session which can be done at the same time or at a later date:

Cait's Kitchen Clean-Out and Menu Plan
I will come to your home and help go through your pantry to identify potential roadblocks on your path to health.
If desired we can do a grocery store tour and I can then help restock your pantry with staple items that are key to truly vibrant living.
Third Consultation:
2-6 weeks after second appointment depending on severity of imbalance and preference.
In this session we will take stock of where you are in terms of your goals and make any necessary adjustments to your protocol based on your current status.
Fourth Consultation and Beyond:
If necessary and desired we can continue working together until you have achieved the beautifully balanced state your body craves or until you feel you have all the tools you need to continue that journey on your own.
Fees:
First & Second Consultation:
$175 total
Includes:

1-1.5 hour initial interview, mini protocol to implement immediately, & 5+ hours of research for your personal protocol.
Follow up meeting of ~30-45 minutes to review full protocol and answer any questions you may have.
All Proceeding Consultations:
$75/each

Includes answering questions, adjusting existing protocol or implementing a new protocol based on improvement/client goals.

Optional Kitchen Cleanout and Grocery Shopping Excursion: $150
Meal Plan: $20 for an individualized 5-day diet plan.
There will be a modest charge for any phone calls or emails above and beyond the weekly check-in depending on how in-depth the query.